International Catholic Stewardship Council:
Advancing Christian Stewardship, Catholic Philanthropy, and Resource Development Worldwide
CSR Helping Hands Event
2018 Conference Attendees GAVE a Lot
'Global stewards' donned red hairnets and packed nearly 11,000 meals in 45 minutes for children in West Africa to kickoff the 56th annual ICSC Stewardship Conference in Nashville, Tennessee.
ICSC Stewardship Conference
Conference Attendees GOT a Lot!
The 56th annual ICSC conference kicked off with Sunday's opening keynote, where Julianne Stanz, with her singular Irish wit and wisdom, shared with attendees the importance of spreading the Gospel in our daily actions.
ICSC News Room
Wisdom From ICSC
Each month ICSC provides practical information, whitepapers, and tips, as well as other insightful information from our Strategic Partners in this monthly e-resource, Wisdom From ICSC Strategic Partners.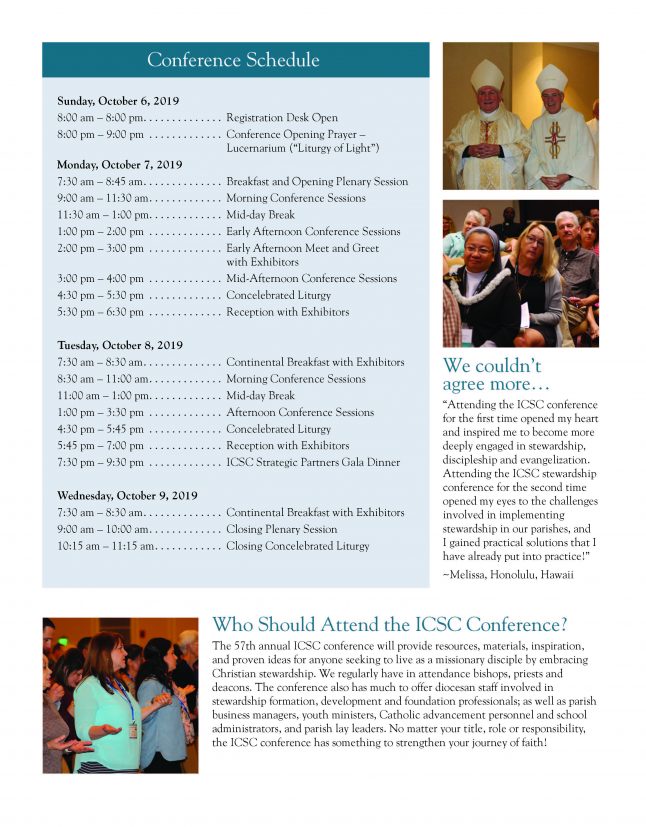 Monthly eBulletin
Receive helpful resources to enhance stewardship in your ministry. Discover prayers, featured articles, and Gospel reflections on a stewardship way of life. Be inspired, be equipped, and be transformed!  
INSPIRATION FOR THE JOURNEY
ICSC Member Reflection
ICSC member, Dan Conway, reflects on the suffering and tension in our Church today and how a good steward of his faith remains a grateful believer now more than ever. Please click the LINK below to read Dan's reflection.
Stewardship Saints
The life of Saint Damien de Veuster is celebrated during the month of May. He is best known as Saint Damien of Molokai, "apostle to lepers." Despite contracting Hansen's disease, while ministering to the people in Molokai, Hawaii, he described himself as the "happiest missionary in the world."
ICSC Near You
Join a fellowship of like-minded leaders committed to stewardship