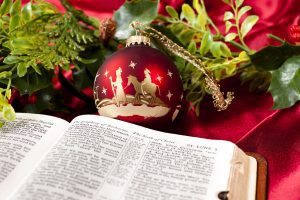 Be a Good Steward of the Christmas Season
December is such a busy time of year, and a month that tempts us to lose sight of the profound spiritual importance of the Advent and Christmas seasons. The best way to stay focused on keeping Christ in Christmas is to be good stewards of his presence in our daily lives this Christmas season. Here are simple ways to exercise good stewardship of this sacred time of year.
Give God a very special gift during the Christmas season: Let this gift be something personal that no one else needs to know about, and let it be a sacrifice. Perhaps your gift will be to commit to spending more time with God daily. Perhaps there is a habit you know you should give up. Why wait for a New Year's resolution? Start now.
Celebrate the season of Christmas in its entirety: Light a Christmas candle each night before dinner daily through the Christmas season to Sunday, January 12, the Feast of the Baptism of the Lord. If you have children, let them offer their own prayers to the Christ child.
Set aside a special time after Christmas Day to read the Christmas story in the Gospel of Saint Luke 1:5-56 through 2:1-20 more reflectively: Consider reading this account with your family and discussing it together.
Keep a crèche up in your home throughout the Christmas season: Consider having one set that is "kid-proof" which your children are allowed to handle. Kids love to make the Nativity story their own, and they especially love the angels!
Plan a project to help someone this Christmas season: Identify someone with a genuine need, involve your whole family and see how happy you can make someone during the Christmas season. Participate in your parish Adopt-a-Family program or call Catholic Charities or another charity and find a family through their programs. Make sure your children take part in shopping for a family who needs extra help and make them aware of the needs in your community. 
Take a group Christmas caroling to a nursing home or a children's hospital: Get people together after the busyness of the days leading up to Christmas is over. Make it a festive time. Bring the gifts of your joyful smiles and voices to those who may need these gifts.
Give a surprise gift of service to each member of your family: The idea of giving an unexpected gift of service to members of your family in the days following Christmas reveals your own love and concern for them. You might consider giving your spouse a day away, running an errand for your brother, or cleaning out a closet for your mother. Make it personal and meaningful.
Continue to send Christmas cards and thank you notes that convey a spiritual message: This is an easy way to share your faith during the Christmas season. Don't just sign your name! Include a personal message with each card. Set aside some time after Christmas Day to write thank you notes and help your children to write thank you notes for the gifts they receive. This is a wonderful habit for a lifetime, and a good way to foster a steward's gratitude for all gifts.
Write a Christmas letter to someone far away such as someone in the service, or perhaps someone working or ministering in a foreign country: It has been said that receiving a letter when you are far away from home is like opening a priceless gift on Christmas morning, no matter what day of the year. Many people are unable to travel home for the holidays, so it can be a very lonely time for them. Write a special Christmas letter to someone of your choice.
Start the New Year in a special way. Attend Mass on January 1: New Year's Day is the Solemnity of Mary, the Holy Mother of God. It falls on Wednesday in 2020. Try to get family to go with you. If you are alone this Christmas season or don't have family living near you, invite a friend or a neighbor to join you.