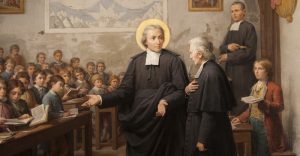 Saint John Baptist de La Salle
St. John Baptist de La Salle is the patron saint of schoolteachers. He was the founder of the Brothers of the Christian Schools and is renowned for his lifelong devotion to educating the poor. John Baptist was born to a wealthy family in Reims, France, in 1651. He was a scholar, studied for the priesthood and was ordained in 1678. He earned a doctorate in theology in1681. Although he lived a comfortable life at the cathedral in Reims, he was drawn to education early on. At the urging of a layman to open a school for poor children in Reims, John Baptist opened two schools that became very popular, even though the prevailing view in France was that children of the poor should only be taught how to perform manual labor, not to be educated.
John Baptist continued to discern the will of God in his life. He sold all that he possessed and donated the proceeds for hunger relief. He and a small group of men formed themselves into a religious community by taking a vow of obedience and adopting the name Brothers of the Christian Schools. In 1686, he opened four more schools in Reims as well as a school to train teachers. He would later establish other schools in Paris and Saint-Denis.
Although his religious community was not yet approved by the Church, in 1694 John Baptist and twelve of his community members took perpetual vows, committing themselves to providing free education to the poor for the rest of their lives. John Baptist's educational theories and practices became standard including classroom instruction instead of one-on-one instruction, teaching in the native language instead of in Latin and integrating faith formation into a curriculum.
St. John Baptist de LaSalle died on Good Friday, April 7, 1719. He was canonized in 1900 and his feast is celebrated on April 7.