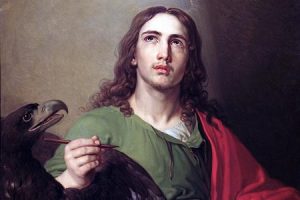 Saint John, Apostle, Evangelist and Protector of the Blessed Mother
At the foot of his cross, when Jesus looked down "and saw his mother and the disciple whom he loved, he said to his mother, 'Woman, behold your son.' Then he said to the disciple, 'Behold your mother.' And from that hour, the disciple took Mary into his home" (John 19:26-27). The disciple Jesus is referring to is Saint John, who would be the apostle who cared for Our Blessed Mother until she was assumed into heaven.
John was one of the twelve apostles and considered to be the author of the Fourth Gospel. The son of Zebedee, John was, like his brother James, one of the first disciples called by Jesus, who gave the two brothers the name "Sons of Thunder" for their zeal. They were very close to Jesus and were with him at his Transfiguration. John is identified as the Beloved Disciple who reclined next to Jesus at the Last Supper, ran with Saint Peter to the tomb of Jesus on Easter morning and who first recognized the Risen Lord at the Sea of Tiberias.
John played a leading role in the first Christian community in Jerusalem and is designated in the Acts of the Apostles as second to Peter in the upper room. He accompanied Peter to preach in the Temple, where they were both arrested and he traveled to Samaria to minister to the new Christian converts.
John is traditionally regarded as the author of four more New Testament texts besides the Gospel of John: the book of Revelation, and three letters. In the eighteenth century, Pope Benedict XIV, a renowned scholar, accumulated evidence and traditions and wrote in his Treatise on the Holy Mysteries on Holy Friday that in order to ensure her safety from the persecutions being committed in Jerusalem at the time, took Mary to live with him in the Christian community at Ephesus, located in Asia Minor: He wrote: "Saint John, leaving for Ephesus, took Mary with him and it was there that the Blessed Mother was assumed into heaven."
Saint Jerome, the most famous biblical scholar in the history of the Church, reported that when his age, most likely in his 90s, made it impossible for John to preach, he would be carried to the assembly and was in the habit of saying, "My little children, love one another." When asked why he always used the same words, he is said to have replied, "Because it is the word of the Lord, and if you keep it, that is enough."
Saint John passed away in Ephesus sometime between the years 100 and 117. He is the patron saint of Turkey and Asia Minor. His feast day is December 27.