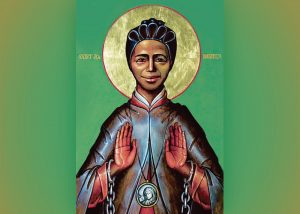 Born in western Sudan in 1869, our February stewardship saint recalled having a loving family and happy childhood. At age seven, however, she was abducted by Arab slave traders; the trauma and sheer anguish of which caused her to forget her own name. A slaver sarcastically named her Bakhita, Arabic for lucky. For the next eight years, Bakhita would be sold and resold in African slave markets. She experienced the cruelties, humiliations and sufferings of slavery, including severe emotional abuse, beatings and indescribable mutilations.
In 1883, at age14, Bakhita was sold to an Italian consul, who treated her with much kindness. She was gifted to an Italian couple in 1885 who took her to their villa outside Venice where she would become nanny to their infant daughter.
Needing to leave the country on business for a several weeks in late 1888, the couple entrusted their daughter and Bakhita to the care of a Venetian convent of the Canossian Daughters of Charity. But when time came for the pair to be collected, Bakhita refused to leave. To protect her, the religious superior complained to local authorities.
An Italian court ruled that because Sudan had outlawed slavery even before Bakhita's birth and because in any case Italian law did not recognize slavery, Bakhita had never legally been a slave, could not be considered property, and having reached majority age, could make her own decisions. Bakhita chose to remain with the religious community.
In 1890, Bakhita received the sacraments of Christian initiation, and embraced the name Josephine. She was eventually admitted into the Canossian community and in 1902, Sister Josephine was assigned to the convent in Schio, a town in the Italian Alps.
For the rest of her life, Sister Josephine happily served the community in Schio as sacristan, cook, and portress, the community member appointed to interact with the public and provide hospitality to guests. Besides her humble and faithful stewardship of daily prayer and service, Sister Josephine helped prepare other members for missionary work in Africa. Her gentleness, calming voice, and ever-present smile caught others' attention. She was encouraged by her community to tell her story, and in 1931, its publication made her well known throughout Italy.
Her life in Schio continued uninterrupted through two world wars. When air-raid sirens sent others scurrying for cover during World War II, Sister Josephine, unfazed, would continue her cooking or sweeping. Many believed their town escaped serious damage because of her saintliness and felt protected by her mere presence.
Sister Josephine died on February 8, 1947. Since then, many have sought her prayerful intercession, especially those who experience any form of slavery, and those who need to find peace, forgiveness and reconciliation in their lives. She was canonized a saint in 2000 by Saint John Paul II. Her feast day is February 8.