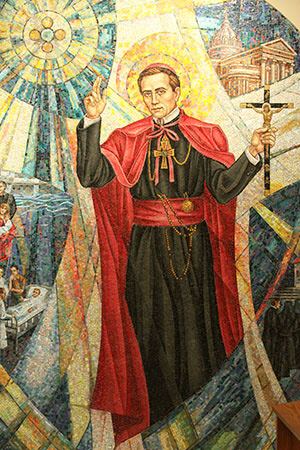 Neumann, a small individual at 5'2", arrived in Manhattan in June 1836 and was ordained three weeks later for the Diocese of New York. His first assignment was to provide pastoral care for a German-speaking immigrant community whose members were clearing forests for a settlement near Niagara Falls. After four years of working alone, Neumann joined the Redemptorists (Congregation for the Most Holy Redeemer, C.SS.R.), and took permanent vows in January 1842.
Neumann spoke eight languages and became a popular preacher for many different immigrant communities in Pennsylvania, Maryland, New York and New Jersey. Eventually, he was elected to head the Redemptorists in the United States.
John Nepomucene Neumann was born in Bohemia in 1811 and named by his parents after the patron saint of Bohemia. Neumann was known to be an exceptionally gifted seminarian, intellectually and spiritually. He studied at the University of Prague and traveled to the United States to be a missionary after his bishop decided to postpone ordinations due to an oversupply of priests in the diocese.
In 1852 Neumann was appointed the fourth bishop of Philadelphia, a diocese that spanned the eastern half of Pennsylvania and the state of Delaware. As soon as he was ordained he embarked on an ambitious diocesan building campaign and was responsible for building over 100 parishes and 80 Catholic schools. He completed an unfinished cathedral and founded a new congregation of women, the Sisters of St. Francis of Philadelphia, to help staff the increasingly crowded schools. Neumann also wrote two German catechisms that were approved by the First Plenary Council of Baltimore, the first of three national meetings of United States Catholic bishops held in 1852 in Baltimore, Maryland. His Baltimore catechisms were translated into other languages and widely used in the United States for the remainder of the 19th century.
On January 5, 1862, Bishop Neumann collapsed on a Philadelphia street and died. He was 48 years old. Philadelphia's historical annals reveal that half the city's population attended his funeral, including the mayor, police and fire brigades, military battalions and a number of civic and Catholic societies and benevolent organizations. He was buried under the altar of the lower church of the Redemptorist parish, St. Peter. His burial site quickly became a shrine, attracting thousands of pilgrims. Saint John Nepomucene Neumann was canonized on June 17, 1977. His feast day is January 5.