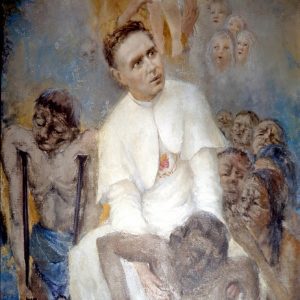 Saint Damien de Veuster is better known as Saint Damien of Molokai, "apostle to lepers." When he was born in 1840, few people had any firsthand knowledge of leprosy, Hansen's disease. But by the time he died at age 49, people all over the world knew about this disease because of him.
Joseph de Veuster grew up in a small village in Belgium. He joined the Fathers of the Sacred Hearts of Jesus and Mary in 1859, taking the religious name Damien. When his brother, who was also a member of the congregation, was taken ill and unable to embark on his assignment in the Hawaiian Islands, Damien went in his place. He was ordained a priest there in 1864.
In 1873 Father Damien responded to the local bishop's call for volunteers to work on Molokai, an island used in part as a leper colony. At the time there was no cure for leprosy and those who contracted the disease were shunned.
There were about eight hundred lepers on the island when Father Damien arrived and the number continued to grow. Living conditions were so terrible that Damien referred to the place as a "living cemetery." He visited the lepers in their huts and brought them the sacraments. He also made efforts to improve the roads, harbor, and water supply and to expand the hospital. His multiple responsibilities were said to have included those of a pastor, physician, counselor, builder, sheriff, and undertaker. In one of his letters home, he wrote: "I make myself a leper with the lepers, to bring all to Jesus Christ."
Father Damien returned to Honolulu to beg for money, clothing and medicine and as news of his ministry spread, donations began to pour in from all over the world. But in 1885, he himself contracted leprosy and was forbidden to leave the island. Volunteers and visitors stopped coming.
When Father Damien spent a week in a Honolulu hospital, his ministry gained even more recognition. He was visited by the king and the prime minister, and money and offers of prayers continued to pour in from Europe and the United States. As his condition worsened, Damien accepted it as God's will and described himself as the "happiest missionary in the world." He died on April 15, 1889. When Hawaii became a state in 1959, it selected Damien as one of its two representatives in the Statuary Hall at the United States Capitol. Damien was canonized in 2009.