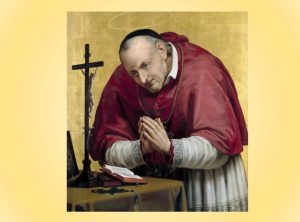 Alphonsus Liguori was the founder of the Redemptorists (Congregation of the Most Holy Redeemer) and one of the greatest moral theologians in the history of the Church. Born into a Neapolitan noble family in 1696, he studied and practiced law successfully until, after losing an important case through his own fault and seeing it as a sign of God's will, he decided to enter the priesthood. He studied theology and was ordained in 1726. Soon thereafter he established a reputation as an effective preacher and understanding confessor in and near Naples.
In 1732, Alphonsus founded the Congregation of the Most Holy Redeemer for priests dedicated to preaching the Gospel, especially to the rural poor in the kingdom of Naples. Alphonsus continued to preach and hear confessions with great success throughout the kingdom, especially in villages and hamlets, until 1752 when his health failed. He was especially gentle with the scrupulous, those with an unhealthy sense of anxiety and guilt, because he himself suffered from scrupulosity.
Alphonsus published the first of three dozen theological and devotional works in 1745, the most important of which was his Moral Theology, revised and reprinted nine times during his life. In this work he created new moral principles, and his pastoral approach was always one of simplicity and kindness. He also published devotional writings, especially about the Blessed Virgin Mary. His Glories of Mary (1750) influenced Marian piety well into the nineteenth century.
After first refusing the appointment, in 1762 Alphonsus was ordained bishop of Sant'Agatha dei Goti, a diocese located between Benevento and Capua, Italy. He organized parish missions and urged his priests to be simple in the pulpit and compassionate in the confessional. He was especially critical of priests who celebrated Mass too quickly. When a famine broke out in the winter of 1763, he sold everything he had, including his carriage and mules and his episcopal ring, to buy food for the starving. The Holy See gave him permission to dip into the assets of the diocese for relief work.
Alphonsus suffered an attack of rheumatic fever in 1767 that almost killed him and left him with an incurably bent neck. He eventually resigned his position in 1775 because of poor health. He lived another twelve years in poor mental and physical health. He died during the night of July 31/August 1, 1787, within two months of his ninety-first birthday. Alphonsus Liguori was beatified in 1816, and made patron saint of confessors and moral theologians in 1950. His feast day is August 1.