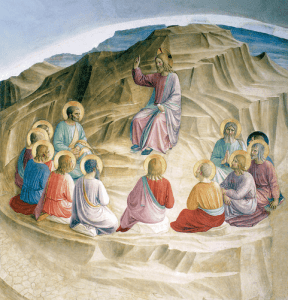 Fra Angelico
Fra Angelico is well known as an Italian painter of the early Renaissance who combined the life of a devout Dominican friar with that of an accomplished painter. Originally named Guido di Pietro, he was born in Vicchio, Tuscany, in 1395. He discovered his God-given gifts as a child, and as a young teenager was already a much sought-after artist.
Angelico was a devout young man who entered a Dominican friary in Fiesole in 1418. He took his religious vows, and about 1425 became a friar using the name Giovanni da Fiesole. He was called "Brother Angel" by his peers, and was praised for his kindness to others and hours devoted to prayer.
He spent most of his early life in Florence decorating the Dominican monastery of San Marco. In 1445, he was called to Rome. But before leaving, he completed one of his most beautiful works in a nondescript upstairs cell that may have been his own bedroom in the monastery. It's an Annunciation painted high on the wall against the vaulted ceiling. The angel Gabriel is positioned near the center of the arched composition, announcing God's favor on Mary. Off to the left stands Saint Dominic. The effect is that of a vision within a vision as Saint Dominic's prayers conjures up the vision of the angel and Mary while the whole painted scene is that of a vision seen by the occupant of the cell. Like the man who painted it, the scene can best be described as "holy" because of its beautiful simplicity.
At the time Angelico was called to Rome, Pope Eugene IV was in search of a new archbishop of Florence. He eventually chose the bishop of San Marco, Antonio Pierozzi. Two hundred years later, when Pierozzi was proposed for sainthood, it was revealed that the pope's first choice as archbishop of Florence was Fra Angelico, but that the painter's humility caused him to decline and instead suggest Pierozzi to be archbishop.
Angelico reportedly made what was considered a profound stewardship declaration during his life: "He who does Christ's work must stay with Christ always." Later known to art historians as Fra Angelico, he died in 1455.
Saint John Paul II beatified Fra Angelico in 1982 and declared him patron of Catholic artists. The late pontiff suggested that he be declared "Blessed Angelico" because of the seemingly perfect integrity of his life and the almost divine beauty of the images he painted, especially those of the Blessed Virgin Mary. Fra Angelico's feast day is February 18.