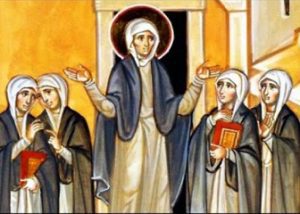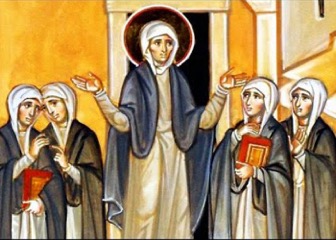 Saint Angela Merici
Angela Merici was born in a small town in the Republic of Venice around 1470. She was orphaned when she was ten years old and moved in with relatives in the city of Brescia, in northern Italy.
When Angela Merici returned to her hometown, she began to devote her life to the education of impoverished young women. In the fifteenth and sixteenth centuries, education for women was reserved for the wealthy, and for nuns, who were the best educated.
Angela loved working with children, and she believed that education and Christian formation were especially needed for young girls. She devoted her time to teaching girls in her home, which she had converted into a school.
Angela brought together a group of unmarried women who went out into the streets to gather up the girls they saw to teach them and offer religious instruction in their homes. These women had little money, but were bound together by their dedication to education and commitment to serving Jesus Christ. She would remind her group that they had a greater need to serve the poor than the poor had of their service. She embraced a prayerful and simple lifestyle.
Angela's group was so successful that Angela was asked to bring her innovative approach to educating young women to other cities. Her ministry impressed many, and was brought to the attention of Pope Clement VII.
In 1535, Angela Merici chose twelve young women and formally started the Company of Saint Ursula in a small house in Brescia. Although it was never a recognized religious order in her lifetime, Angela's Company of Saint Ursula, or the Ursuline nuns, was the first group of women religious to work outside of a cloister and the first teaching order of women.
Among some of the last pieces of advice she gave her fellow sisters was a stewardship message: that they should do in life what they would have wanted to do in death. She died on 27 January 1540 at seventy years of age. Her feast day is January 27.