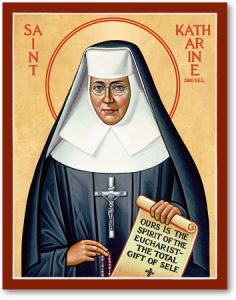 Saint Katharine Drexel
Katharine Drexel, the second American-born canonized saint, was born into great wealth in Philadelphia in 1858. Her mother died soon after Katharine's birth, and she was raised by her father and stepmother, both known for their philanthropy, especially their generosity to the poor.
As a young heiress, Katharine traveled extensively across the U.S. and became aware of the difficult circumstances faced by Native Americans and African Americans. After her father and stepmother died, Katharine determined to use her inherited wealth to help these groups.
Traveling in Europe in 1887, she asked Pope Leo XIII for help in sending missionaries to the many institutions she funded, including a school in South Dakota. The pope challenged the heiress to undertake the mission herself.
After much discernment, Katharine decided to devote not just her fortune (worth more than $200 million today), but her life to the poor. In 1889, at age thirty, she entered the Sisters of Mercy.
But Drexel continued to feel a special call to serve African and Native Americans. In 1891 she started her own religious congregation, the Sisters of the Blessed Sacrament for Indians and Colored People (S.B.S). The order's first American Indian school was launched in Santa Fe, New Mexico, three years later.
Mother Katharine eventually created eleven more schools on Indian reservations, nearly a hundred for African Americans in rural areas and the inner cities of the South, and in 1915, established a teachers college that would eventually grow to become the first and only Catholic university for African Americans, Xavier University in New Orleans. In 1922 in Beaumont, Texas, the Ku Klux Klan threatened to tar and feather the local pastor and bomb his church if he did not close down one of Mother Drexel's schools. The sisters prayed for God's intercession to resolve the threat. Within days a tornado destroyed the Klan's headquarters. Two Klansmen died, and the Klan never bothered the sisters again.
In 1935, a severe heart attack forced Mother Katharine into prayerful retirement at her motherhouse in Philadelphia. Nevertheless, she continued to fight for, and fund, civil rights causes. During the 1950s, her sisters in Harlem and New Orleans were jeered at as "Nigger Sisters," and Mother Katharine's response was to ask the sisters if they prayed for their detractors. She died in1955, and was beatified by Pope Saint John Paul II in 1988 and canonized in 2000. Her feast day is March 3.