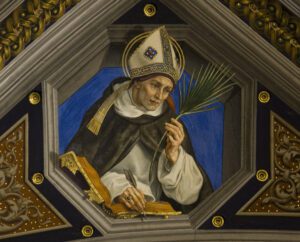 Saint Albert the Great was a 13th-century German Dominican priest, considered one of the most extraordinary men of his age alongside Peter Lombard, Roger Bacon and Saint Thomas Aquinas. His stewardship of the intellectual life, his students and our life of faith is profound.
Born in 1200, near Ulm, Albert was the eldest son of a powerful and wealthy German family. He was educated in the liberal arts at the University of Padua, Italy, and against his family's wishes, joined the Dominican Order in 1223.
He earned his doctorate at the University of Paris and taught theology with much success in a number of medieval German universities, including Cologne.
For a time Albert was the pope's personal theologian, and in 1260 was appointed bishop of Regensburg, Germany, against his will. He remained for only three years before returning his time and energy to teaching and writing in Cologne. He enhanced his reputation for humility by refusing to ride horses. Instead, he walked back and forth across his huge diocese, keeping with the rules of the Dominican order.
Albert's influence on scholars is substantial. His fame is due in part to being the forerunner, spiritual guide and teacher of Saint Thomas Aquinas. But he also composed an encyclopedia containing treatises on almost every branch of learning known at the time. His work fills thirty-eight volumes and covers subjects ranging from astronomy and chemistry to geography and philosophy. His knowledge of science was considerable, and for the age remarkably accurate. He also displayed an insight into nature and a knowledge of theology that surprised his contemporaries, who named him "Magnus" ("the Great") to recognize his genius. Albert even inspired a mystical school of theology among fellow Dominicans such as Meister Eckhart.
Albert participated in the Second Council of Lyons, France, in 1274, the fourteenth of the Catholic Church's 21 great councils (Vatican II was the twenty-first). On his way to the council, he was shocked to learn of Aquinas' death at age 49, and he publicly defended his former student against attacks on the Catholicity of his writings.
After suffering from what is now thought to be Alzheimer's disease, Albert died in Cologne on November 15, 1280. He was declared a Doctor of the Church in 1931, one of only 33 individuals bestowed that honor. His tomb is in the crypt of the Dominican church in Cologne, and his relics are in the Cologne Cathedral. His feast day is November 15.