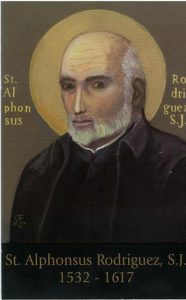 Alphonsus Rodriguez was a Spanish Jesuit lay brother whose assignment for 45 years was being a doorkeeper at one of its colleges. One observer noted that Alphonsus carried out this simple task with such loving hospitality that the act of opening the college door became a "sacramental gesture."
Born in Segovia, Spain in 1533, Alphonsus was the child of a prosperous wool merchant. His father died when he was 14 and he left school to help his mother run the family business. He inherited the business when he was only 23 years old and at the age of 26 he married María Suarez, with whom he had three children. By the time he was 31, though, he found himself a widower who had not only lost his wife, but his mother and two of his children as well.
Alphonsus sold his business and began living a life of prayer and simplicity. When his third child died, his thoughts turned to living in a religious community. He wanted to become a Jesuit but was rejected for his lack of formal education. In 1571 he applied a second time and was accepted as a lay brother. At age 40 he was sent to the recently established college on Spain's Mediterranean island of Majorca and was assigned the humble position of porter, a doorkeeper.
His daily responsibilities for the next 45 years included receiving visitors who came to the college, searching for the college staff or students who were wanted in the parlor, delivering messages, running errands and distributing alms to the needy. He would, however, transform this humble station into a ministry of hospitality and spiritual guidance.
Alphonsus exercised a marvelous influence not only on the members of the college community, but upon a great number of people who came to him for advice. His reputation for holiness grew and people began going to him for spiritual direction. Saint Peter Claver, while a student at the college, was one of them. It was Alphonsus who inspired Claver to become a missionary in the New World.
Alphonsus once wrote that each time the bell at the front door rang he looked at the door and envisioned that it was God who was standing outside seeking admittance. He died on October 31, 1617 and in 1633 local officials declared him patron saint of Majorca. In 1888 he was canonized a saint and the Jesuit poet Gerard Manley Hopkins memorialized him in a sonnet. His feast day is October 31.