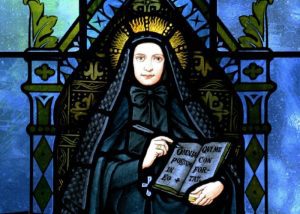 St. Frances Cabrini, better known as Mother Cabrini, was the first American citizen to be elevated to sainthood by the Catholic Church. Born in 1850, near Milan in northern Italy, she was the youngest of 13 children. As a young girl she was fascinated by the stories of missionaries and made up her mind to join a religious order. She tried twice to enter religious communities but was turned down both times because of poor health.
Having earned a teaching certificate, she became a school-teacher in a girls' school, and eventually became headmistress of an orphanage where she drew a small community of women together to live a religious way of life.
Gaining the attention of the local bishop for their way of life and their care of poor children in schools and hospitals, Cabrini and six other women took religious vows and in 1880, their community, the Missionary Sisters of the Sacred Heart of Jesus, was officially approved.
Sister Frances Cabrini dreamt of being a missionary in China, but Pope Leo XIII had other plans for her. He asked her to travel to the United States and minister to the Italian immigrant community in New York. She made that journey in 1889 with the six members of her community.
Said to have possessed remarkable administrative abilities, Frances Cabrini was responsible for the establishment of nearly seventy orphanages, schools and hospitals, scattered over eight countries in Europe, North America and in parts of Latin America.
There is much that can be learned first-hand about Mother Cabrini because of the letters and diaries she left behind. A very prayerful person, she was able to accomplish in her work what others said could not be done. And even as she was maintaining schools and hospitals and in charge of hundreds of nuns, she was ever mindful to care for the poor, the homeless and immigrants who were without jobs.
Frances Cabrini's legacy continues today through the Missionary Sisters, their lay collaborators and in the innumerable religious institutions that bear her name. Her charism continues to inspire thousands who serve the poor in schools, hospitals and other ministries around the world.
St. Frances Cabrini died in Chicago in 1917 at the age of 67 and was proclaimed a saint in 1946. She is the patron saint of immigrants and hospital administrators. Her feast day is celebrated on November 13.