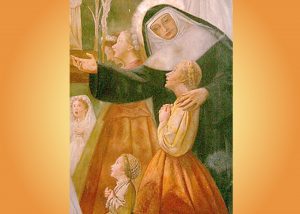 Jeanne de Lestonnac
Stewarding the sick and poor during plague years
Jeanne de Lestonnac was born in 1556 into an influential family in Bordeaux, France. Her father was a member of the French Parliament, and a prominent Catholic. Her mother, who was the sister of the renowned humanist philosopher Michel de Montaigne, had embraced the teachings of John Calvin. Jeanne remained a devout Catholic, and the richness of the renaissance culture in which she grew up would have a great influence on her education.
Jeanne married at age 17 and gave birth to eight children, three of whom died in infancy. She would experience deep pain and sorrow because of the deaths of her husband, the three children and her father. Eventually on her own, she ensured that her children would receive the best education she could afford as well as a devout upbringing in the Catholic faith.
At age 46, widowed and with children grown, Jeanne sensed a call from the Lord to do something extraordinary. She first turned to contemplative life and entered the Cistercian monastery in Toulouse. Illness forced her to leave the monastery, but she was led into a period of deep discernment. She prayed continuously that the Holy Spirit direct her and she searched for models of great Catholic women to be her guides and cultivated an interest in the lives of Saints Scholastica, Clare, Catherine of Siena and Teresa of Avila.
In 1605, a deadly plague spread throughout Bordeaux. Placing her own health at risk, she visited and cared for people in the poorest parts of the city. It was through her stewardship of the sick and the poor that she discovered the presence of Jesus in them. She also envisioned a religious institute to provide formal education for women. She encountered many young people who wanted to make a commitment to her endeavor.
In 1607, Jeanne established a community of consecrated women, The Company of Mary, whose primary ministry would be education. She worked very hard in this new ministry, and by the time of her death at age 84, the community had established 30 schools throughout France. Today the mission of The Company of Mary continues, with over 400 educational institutions in 26 countries, ranging from nurseries to universities. St. Jeanne de Lestonnac's feast day is May 15.